Raleigh, North Carolina - Great Place to Call Home
Raleigh, part of the internationally renowned Research Triangle Park, is the capital of the state of North Carolina, and is one of the fastest-growing cities in the country. Ranked #4 by US News, among 100 cities analyzed, as best places to live based on quality of life and the job market in each city, as well as the value of living there and people's desire to live there. Raleigh is the home to numerous cultural, educational, and historic sites, in addition to RDU International Airport.
Town & Country Realty has experience with all of the neighborhoods in Raleigh and we are excited to help you choose your next home.
Please call Mike Montpetit at (919) 614-9100 if you would like to know more about these neighborhoods and available homes.
---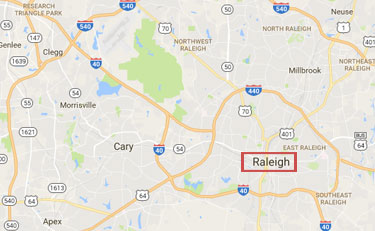 Type of Neighborhoods in Raleigh
Raleigh Single Family Homes
Raleigh Luxury Homes
Raleigh Townhomes
---
Raleigh Attractions
Take a look at just a few of the things Raleigh, North Carolina has to offer
| | | | |
| --- | --- | --- | --- |
| Skyline | RBC Center | State Farmers Markets | Museum Of Art |
| NCSU Bell Tower | Carolina Hurricanes | State Capitol | State Fairs |
| City Market First Friday | Fayetteville Streets | Glenwood South | Lake Crabtree |
Research Triangle Park (RTP) employs nearly 40,000 residents in the area, and is affiliated with the region's three universities – Duke University, the University of North Carolina - Chapel Hill, and North Carolina State University. It is also home to notable institutions like the National Institute of Environmental Health Sciences.

Raleigh-Durham is home to many young, friendly, diverse and educated people. They enjoy dining out in local restaurants – many of which have earned national accolades – and gathering over craft beers in one of the region's many microbreweries.
Cuisine: Raleigh's has an array of cuisines which serves up something to satisfy almost any taste. Menus range from upscale fine dining to brewpubs to traditional Southern cooking. The area is also home to three wineries, two distilleries and 21 (and counting) craft breweries.
The Raleigh-Durham metro area encompasses beautiful green spaces, family-friendly museums and a growing art and music scene defined by monthly gallery walks, summer concerts and music festivals.
Museums: Raleigh is home to three major state museums--of art, history and natural sciences--the North Carolina Museum of Art; the North Carolina Museum of History, and the North Carolina Museum of Natural Sciences, all are free. Marbles Kids Museum also gives kids a chance to be hands-on with role-playing and special exhibits. Marbles is also operating N.C.'s only large-screen 3D IMAX theatre next door.
Parks and Recreation: Raleigh has more than 9,000 acres of parkland and almost 1,300 acres of water, offering recreational activities year-round. A nationally-acclaimed greenway system spans 152 miles, providing walking, jogging and hiking trails that connect many of the City of Raleigh's 200+ parks. Surrounding towns have even more parks and recreational opportunities.
Arts and Culture: Raleigh has an exceptionally diverse art scene. The Duke Energy Center for the Performing Arts has a suite of facilities for almost any size performance, including a state-of-the-art symphonic music hall. You can see a touring Broadway show, view original plays in theatres and outside in the parks, listen to the North Carolina Opera or North Carolina Symphony or watch the Carolina Ballet.
Entertainment: Enjoy nightlife in downtown Raleigh in the Capital District, Fayetteville Street district, Glenwood South, Moore Square district and the Warehouse District. The Raleigh area has the most live music venues concentrated here than anywhere else in the state and has more than 15 percent of the state's craft breweries, making it a capital of craft beer. Listen to live music performed by popular local bands or international superstars at one of the area's major venues, concert venues or entertainment complexes, or simply dance the night away to DJs.
Major Historic Sites:
The North Carolina State Capitol, a National Historic Landmark.
The North Carolina Executive Mansion, home to more than 25 governors and their families since 1891.
Historic Oakwood, a neighborhood of 19th-century Victorian homes listed on the National Register of Historic Places.
Principal Colleges Colleges and Universities:
Major Research University: North Carolina State University.
Women's Colleges: Meredith College.
Law School: Norman Adrian Wiggins School of Law (Campbell University).
Religious Colleges: Shepherds Theological Seminary, Southeastern Baptist Theological Seminary.
Historically Black Universities: Saint Augustine's University, Shaw University.
Culinary School: The Chef's Academy.
Community College: Wake Technical Community College.
Other Private: William Peace University.