Morrisville, North Carolina - Great Place to Call Home
Morrisville, located in Wake County, just 10 minutes from the renowned Research Triangle Park, has one of the most diverse populations in the country. Quality of life in Morrisville also contributes to its popularity. Housing choice, blue ribbon schools, shopping, and civic amenities all contribute to Morrisville becoming one of the fastest growing towns in the Southeast. Its highly educated population means a great workforce for businesses and excellent schools for residents. Town & Country Realty has experience with all of the neighborhoods in Morrisville and we are excited to help you choose your next home. Please call Mike Montpetit at (919) 614-9100 if you would like to know more about Morrisville.
---
Morrisville Communities
| | |
| --- | --- |
| Addison Park | Kitts Creek |
| Breckenridge | Providence Place |
| Chessington | Savannah |
| Downing Glen | Shiloh Grove |
| Kelton | Wexford |
| Keystone Crossing | |
---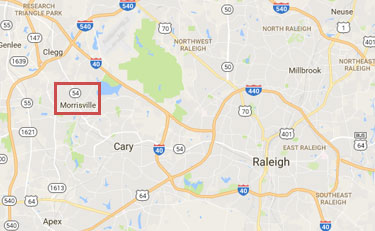 Morrisville is located close by the other major metro's of the Triangle.
Driving times:
Raleigh: 23 minutes
Durham: 20 minutes
Chapel Hill: 25 minutes
Research Triangle Park: 14 minutes
Raleigh-Durham International Airport: 11 minutes
---
Morrisville Attractions
Take a look at just a few of the things Morrisville, North Carolina has to offer
Morrisville's enviable position near major thoroughfares means easy access to regional cultural attractions. Located adjacent to the Research Triangle Park, Raleigh-Durham International Airport, and Interstate 40, it is less than 20 minutes away from North Carolina's best museums, concert venues and sports teams.
Due to the expansion of the technology industry. Morrisville has become one of the most diverse towns in North Carolina. Along with different customs, foods and religion, newcomers bring with them high levels of education and training making Morrisville's education attainment, one of the highest in the nation.
Morrisville's dining scene has it all. It has a variety of restaurants and cuisines from India, Asia, and Persia to Southern barbecue as well as American fare.
The Town of Morrisville provides a plethora of activities and has invested in parks and greenways throughout the community. It is home to six parks [6] and a community center. Greenways and sidewalks connect neighborhoods and commercial areas.
Discover recreational opportunities at the 37-acre Cedar Fork District Park, with fields for playing soccer, football, throwing a frisbee and more . The park provides an unlimited spectrum of recreational, special event, and athletic opportunities. The park consists primarily of eight multi-use fields suitable for soccer, football, lacrosse, etc. The park is open daily for casual recreational use, however, organized or structured recreation and athletic use of fields must be rented from the Parks and Recreation Department.
Gaze upon N.C. wildlife at Crabtree Creek Nature Park, a 34-acre wooded and wetland park site with walking trails and a nature center.
Take the whole family to the RDU's Observation Park which provides sweeping views of the RDU International Airport runways and Air Traffic Control Tower. Popular with kids of all ages, RDU's Observation Park provides sweeping views of RDU's 10,000-foot runway and is located near the Air Traffic Control Tower. Spend hours plane-watching and listening to pilot-tower communications via audio speakers on the elevated observation platform. The park is also a popular location for kids' parties.
If you have interest in Civil War History, discover the Battle of Skirmish at Morrisville through artifacts at theMorrisville History Centertown Hall. The History Center tells the story of Morrisville and the Civil War skirmish that occurred here in 1865. It includes exhibits, a touch screen with short video vignettes and a video viewing room. Hours: Mon.-Fri., 8am-5pm, except between Memorial Day and Labor Day when Town Hall closes at noon on Fri.