ABOUT PANTHEON PRIVATE LENDING:
Pantheon Private Lending is a leading boutique private lending firm specializing in residential fix and flip loans across 43 states.
Pantheon was founded by Daniel Richardson in 2012 to provide affordable financing to real estate investors during the fallout of the financial crisis.
Over the past six years, Pantheon has developed into one of the most reputable lenders to fix and flip real estate investors in the nation.
Despite expanding to a national presence, Pantheon remains a nimble, family-run organization committed to developing relationships, providing personalized service, eliminating bureaucracy, and simplifying the financing process for our borrowing partners.
Pantheon serves as a capital partner to professional real estate investors who complete multiple projects each year, often becoming an integral part of our borrowing partners' business processes.
By eliminating the capital concerns associated with financing fix and flip projects, Pantheon frees borrowing partners to spread their time, attention, and capital across more projects.
LOAN TERMS:
We customize our loans to satisfy the needs of our borrowing partners. Whether your priority is receiving the maximum amount of capital for your deal or obtaining the lowest possible rate, we work with you to arrange an optimal loan structure.
We lend on non-owner-occupied (1-4 unit) fix and flip residential investment properties. We do not currently underwrite new construction or long-term buy and hold projects.
We require a first lien security position on all our loans. No exceptions.
Our loan terms are typically 12-18 months. We do not charge any prepayment penalties or termination fees for early repayment of a loan.
Our rates generally range between 1.5-3 points and 9.0-12.5% interest depending on experience and project specifics.
We fund up to 90% of the purchase price and 100% of the rehab budget for certain transactions. However, larger down payments result in lower rates.
We fund loan amounts of between $75,000 to $2,000,000 for a single project (including both the purchase price and the rehab budget). We do not consider loans with total amounts below $75,000.
We require a minimum credit score of 620.
An appraisal is required for each property that we underwrite. For projects that do not involve a rehab, an "as-is" appraisal will suffice. For projects that involve a rehab, a "subject to" or "ARV" appraisal is required.
We require our borrowing partners have legal representation as well as a business entity (LLC, partnership, S- Corporation, etc.) to serve as party to the loan. We do not transact loans with individuals.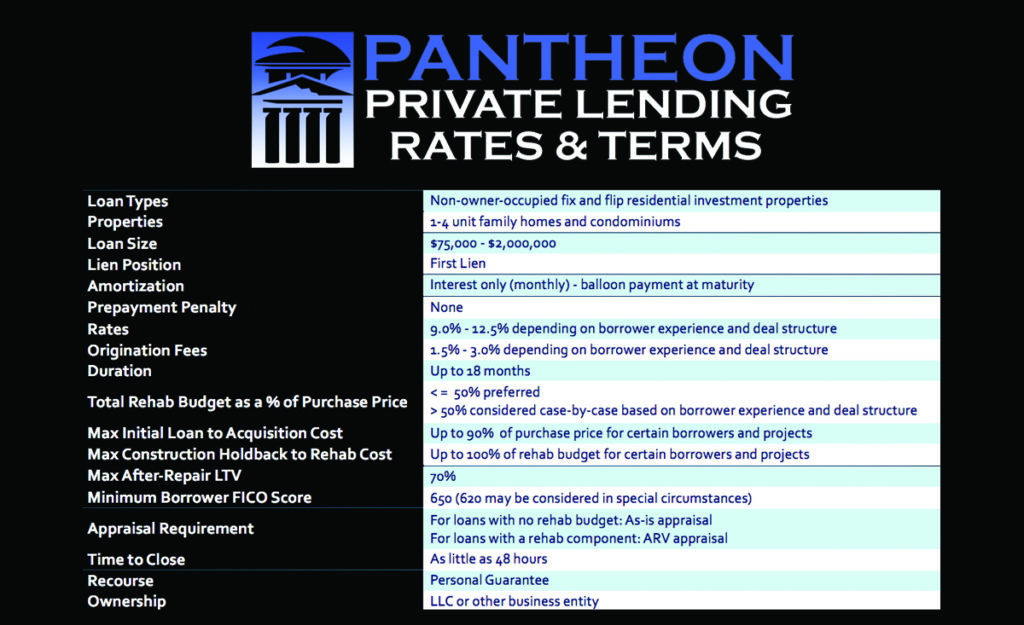 FOR MORE DETAILS, PLEASE VISIT: https://pantheonprivatelending.com/